---
How to Break-up a Dog Fight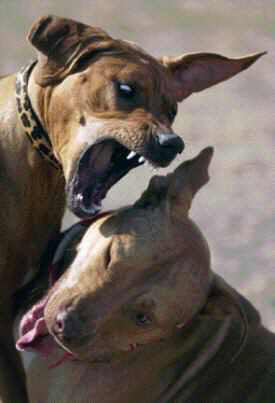 I will start with a warning. Unless you have a lot of experience do not try and break up a dog fight by yourself. Never step in the middle of two loving pets and try and grab them by the collar to stop a dog fight. If you try this, the chances of you being badly bitten are extremely high. People don't understand that 2 animals in the middle of a fight are in survival drive. If they see you at all, they don't look at you as their loving owner. When you charge in and grab them they either react out of a fight reflex and bite, or they see you as another aggressor. When they are in fight or flight mode they will bite you. You can take that to the bank.
The safest way to break up a dogfight requires 2 people. Each person grabs the back feet of one of the dogs. The dog back feet are then picked up like a wheelbarrow. With the legs up, both dogs are then pulled apart.
Once the dog fight is broken up and the dogs pulled apart it is critical that the people do not release the dogs or the dog fight will begin again. The two people need to start turning in a circle, or slowly swinging the dogs in a circle while they back away from the other dog. This stops the dog from curling and coming back and biting the person holding their legs.
By circling the dog has to sidestep with its front feet or it will fall on its chin. As long as you slowly continue to back and circle, the dog cannot do any damage to you. To insure that the fight will not begin all over again when you release the dogs, one of the dogs needs to be dragged into an enclosure (i.e. a kennel, the garage, another room) before the dog is released. If you do not do this, the dogs will often charge back and start fighting again or if you release the dog to quickly the dog will turn and attack the person who had his feet.
Dog fights are a very dangerous thing to try and break up alone. You should never rush in and try and grab the dogs to pull them apart. They are in high "fight drive" and are not thinking clearly when fighting. If someone grabs them they will bite without even thinking about who or what they are biting. This is how your loving pet can dog bite the living crap out of you in about a second and a half.
In reality it probably doesn't even know it's biting you. I compare it to a bar fight. If a person comes up behind 2 guys fighting and just reaches out and grabs the shoulder of one of the combatants most of the time the fighter is going to turn and throw a punch without even looking at who or what he is hitting. This is because his adrenaline in pumping and he is in "fight drive".
The worst case scenario is that you are alone when a serious fight breaks out. There are a couple things that you must keep in mind:
Keep your cool you have a job to do.

Do not waste time screaming at the dogs. It hardly ever works.

Your goal is still the same; you must break up the fight without getting hurt.

Go get a leash (allow the fight to continue while you do this).

Dogs are almost always locked onto one another. Walk up and loop the leash around the back loin of the dog by either threading the leash through the handle or use the clip. I prefer the thread method.

Now slowly back away and drag the dog to a fence or to an object that you can tie the leash to. By doing this, you effectively create an anchor for one of the dogs.

Then walk around and grab the back legs of the second dog and drag it away from the dog that is tied up. Remember to turn and circle as they release.

Drag the dog into a dog pen or another room before you release the back legs.

Go back and take the dog off the fence and put him or her into a dog kennel.

Sit down and have a stiff drink (or two).
A point I would like to make is that if you see two dogs out there squaring off through body posturing (i.e. one dog with stiff legs and tail straight up in the air putting his head over the shoulders of the other to show dominance) do not run out there screaming "NO NO NO!!!!" Most of the time this is going to trigger the fight. A lot of times dogs will posture and one will give in and back away. They settle their dominance issue without a battle. I NEVER, NEVER, NEVER recommend testing this situation. It's not worth the fight that erupts if you are wrong. But I can tell you of a couple of situations at my kennel where I went outside and 2 males were loose that I would have thought would fight to the death. Obviously they determined that today is not the day to argue. I also know that had I gone out screaming before they settled it themselves there would have been a nasty fight.
If you have 2 dogs that you are trying to get to live together it's best to make them wear muzzles all the time. They are not expensive but very effective for this work.
With muzzles on you can test your training and if the dogs become aggressive you can safely step in and correct the dogs. It's important to make sure the muzzles are properly fit and on securely. It's also a good idea to have the dogs wear 18-inch draglines.
When one of the dogs even acts like it is going to challenge the other dog you need to INSTANTLY get after that dog. Your the pack leader and pack leaders are the ones who determine when to fight or be aggressive.
A last word of warning. If you or someone you are with gets bitten and has to go to the emergency room, the most common treatment is to leave the dog bite wounds open so they can drain. They normally should not be stitched. The only time most doctors will stitch up a dog bite is if it's on the face. By closing the wound there is a much higher chance of infection. If the doctor that you see wants to stitch normal puncture wounds, ask for a second opinion. Because of my experience with police dogs I knew better than to allow my hospitals Physician Assistants to stitch my employee. I voiced my concern but she insisted on stitching. I should have asked for a doctor's opinion. The wounds got infected and we had him back in the emergency room (at a different hospital) 2 days later. They took the stitches out, inserted packing and put him on "IV's" with antibiotics.
KMR (Kitten Replacement Formula)
Pee Pads (for puppies)
Tidy Cat Scoopable Litter
Friskies canned cat food (no fish)
Purina One dry kitten food
Purina One Healthy Metabolism or Purina Cat Chow Naturals Dry Cat Food
Cat & Dog Toys
Paper Towels
Odo Ban Spray
Gift Cards for pet supplies
Gasoline Cards for transporting animals
Bully Sticks for dogs
We Need Your Donation Today to Help Feed Our Cats & Dogs and Find Them Permanent Homes

OCTOBER 2017
October 14, 2017: 11 a.m. - 3 p.m. - Petco Adoption Event, 5925 U.S. Highway 6, Portage, IN
October 14, 2017: 11 a.m. - 3 p.m. - Ted's Feed Store Adoption Event, 2112 U.S. Highway 41, Schererville, IN
October 15, 2017 : 11 a.m. - 3 p.m. - Petco Adoption Event, 5925 E. Highway. 6, Portage, IN
October 21, 2017: 11 a.m. - 3 p.m. - Petsmart Adoption Event, 2881 E. U.S. 30, Hobart, IN
October 22, 2017: 4 p.m. - 9 p.m. - Texas Roadhouse Fundraiser, 6130 E. U.S. Highway 6, Portage, IN
October 28, 2017: 11 a.m. - 3 p.m. - Petco Adoption Event, 5925 U.S. Highway 6, Portage, IN
NOVEMBER 2017
November 5, 2017: 8 a.m. - 1 p.m. - Pancake Breakfast & Bazaar, St. John Panel Room, 1844 Lincoln Avenue, Whiting, IN
November 12, 2017: 11 a.m. - 3 p.m. - Petco Adoption Event, 5925 U.S. Highway 6, Portage, IN